Order by Mail Option
Send your check for $30 ($25 + $5 Shipping) to:
Bryan Broderick
1400 West Adams Road
Pentwater, MI 49449
About the Book Daniel Boone and His Neighbors
As a child, I was told many stories about Daniel Boone, The Bryan's, The North's, and Miles family members. Being so young I didn't understand the importance of these stories. But it was important for my Grandmother, Great Aunts, and Uncles to relate them to me. Over the decades of marriage and raising children, my memories faded. 
In 2015 my sister died. She was a hoarder of sorts, very interested in family history, and kept every scrap of paper. My wife, Barbara and I slowly went through all of her many treasures. In a file box long forgotten, was my Great Grandfather's documents. Mostly old deeds and tax records. But at the very bottom of the box was a bundle of notes and typewritten pages, titled Daniel Boone and His Neighbors we instantly knew it was an important document. As a child, I was told of our family relationship with Rebecca and Daniel Boone. And that my first name was in honor of my Great Grandfather William S. Bryan. Through these documents, I soon learn just how closely the Boone's and Bryan's were involved with each other. 
I began to remember many of the stories I was told. My Great Great Grandfather, Elijah Bryan, lived with the Boones while they treated him for the lingering effects of a snake bite. Elijah, being one of a few young people that knew how to read or write was set to the task of assembling a manuscript for Boone of his life. Documents and first hand dictation from Boone soon produced the "Lost Manuscript of Daniel Boone".  During a supposed Indian attack, the manuscript was loaded in a canoe and sent down the Missouri River. The canoe tipped and the documents were lost. 
The contents of the manuscript were later dictated to my Great Grandfather by Elijah, his father. And the results of that collaboration are in our book. 
If you are from Missouri, especially St. Louis, St. Charles, and Franklin Counties, many of the names in the book will be familiar. And you may very well be one of their descendants. 
The writings, we feel, will give the reader an impression of what life with Boone and in those times was actually like. We did not alter any of the stories or contents. The entire book is as it was written by William S. Bryan in 1880-1890.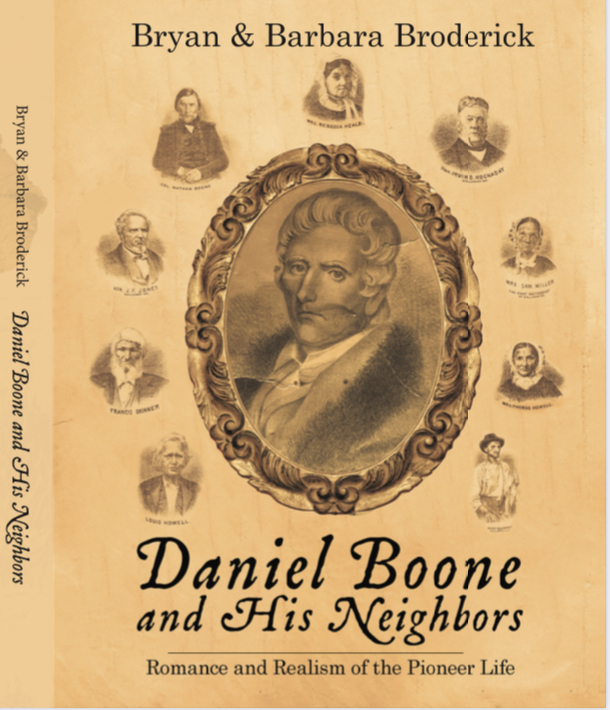 Order by Mail Option
Send your check for $30 ($25 + $5 Shipping) to:
Bryan Broderick
1400 West Adams Road
Pentwater, MI 49449
Purchase a personalized signed copy
of Daniel Boone and His Neighbors
$25 + $5 shipping
Fill out the contact form below to complete your purchase.
A Book Review:
       "Daniel Boone and His Neighbors:  Romance and Realism of the Pioneer Life"
         By Bryan & Barbara Broderick 
Have you ever dreamed that one day you'd find a long lost diary or missing journal that was rumored to exist but was most likely destroyed or lost long ago? Every now and then it happens, and the book I'm reviewing, "Daniel Boone and his Neighbors" is living proof.
That Daniel Boone once tried to set the record of his life and adventures straight is no secret. His jumbled notes and scribbles were even sorted and made presentable by Daniel and a young relative who came to live with the Boone family in about 1810. Daniel liked the resulting manuscript well enough that he shared it with his daughter and son-in-law Jemima and Flanders Calloway. They in turn shared it with more relatives and neighbors until eventually it was lost when the family fled from a rumored Indian raid and a canoe filled with their possessions capsized in the Missouri river.
That was that the Boone book we would have all loved to read too was no more, the end. Or was it? As it turned out the youth who helped Daniel with his manuscript remembered much of what had been recorded and continued telling the stories to his own son,   William S. Bryan, who would go on to become a famous author in his own right and the founder of the Historical Publishing Company in 1880.
Eventually, William wrote a book based on the Boone tales his father had told him. He had hoped to publish it too, but unfortunately, that never happened and the Boone story would be stored in a box and lost to us for another one hundred years. And that's how it would have remained except for the fact that Bryan Broderick found his Great Grandfathers work in the bottom of a box of full of family research he recently inherited from his sister. A work he thankfully felt compelled to finally see published and make available to everyone interested in Boone's story.
Sure, some of the tales in this book are fanciful, and some are downright contradicted by facts we know to be true based on modern research. The book is a product of its times, but even so, I found the stories and images between the covers of this 325 page book a wonderful read and something between the Draper manuscripts and Davy Crockett's almanac.
If you ever wondered what it was like to be a Boone on the early frontier, or what kind of experiences his kin and neighbors had on a daily basis, this book is a must. Although it is set in Missouri, it's hard to imagine things were ever any different in Kentucky. There are stories of Indian raids and battles, recounted exploits hunters and tales of the everyday life events once experienced by Daniel Boone and his neighbors, just like the title says.
Whether you order a copy for yourself and as a Christmas present for someone you know will enjoy it, I know I did and I'm glad I added it to my Boone library. You can get it either online from Amazon or the old fashioned way by contacting the author himself. If you order it directly from the author he will include a pdf copy of his Great grandfathers book Pioneer Families of Missouri circa 1860.
For more information and to order online for $25 plus $5 shipping I suggest you check the authors' web page for this book
If you prefer snail mail, the book still costs $25 plus $5 shipping that can be sent to:
Bryan Broderick
1400 West Adams Road
Pentwater Mi. 49449